tiger balm is a natural way of relieving various joints as well as muscular pains. The medicine formula was formulated by Chinese botanist who used to work for royal family. The medicine was formed in 1870, which means that the medicine is more than century old. He found that menthol, camphor, Chinese cane tree combined with essential oils results in a medicine which has strong analgesic properties and was very effective in relieving pain.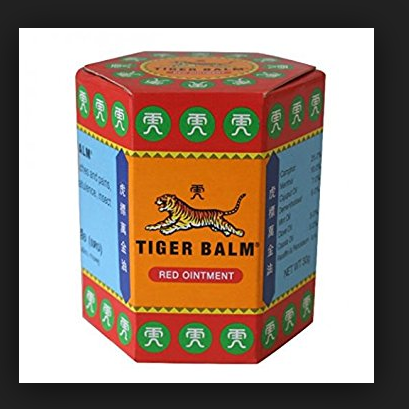 Different verities of Tiger Balm are available in the market. However, Tiger Balm white, Tiger Balm Red and Tiger Balm Liniment are the most commonly used varieties. Presence of the essential oil extracted from cinnamon is the reason for the red color of Red Tiger Balm. Red Tiger Balm is primarily used in treating joint and muscular pains whereas White Tiger Balm is used in treating cold, cough and headaches.Red Tiger Balm is stronger as compare to White Tiger Balm.
Menthol, clove essential oil and camphor are the main ingredients of Tiger Balm. White Tiger Balm also has Eucalyptus extracts in it. Cajuput oil, mint oil and cinnamon oil are three other essential oils which are present in Red Tiger Balm.
The balm works on the following principle:
Rubbing balm on the affected area increases blood circulation in that area which creates heat effect, this heat effect is then followed by cold effect which is caused because of menthol and other essential oils. This heat and cold effect stimulates nerve endings which result in desensitization and results in relieving pain.
This wonder balm is easily available in market. The original Tiger Balm comes under name of Haw Par which is easily available on the net. It is Singapore Brand. The balm is so effective and hence used in small quantity. Hence its very cost effective.